Film Review: Incredibles 2 (2018)
Incredibles 2 (2018) is the long awaited sequel to The Incredibles released all the way back in 2004. The Pixar animated film is directed by Brad Bird and starts right where the original film left off. Incredibles 2 focuses on the family as Elastigirl gets an opportunity to make superheroes legal again, leaving Mr. Incredible to look after the three children by himself. From thereon, trouble ensues on both sides.
If you know me, you will know that I am a huge fan of Disney and Pixar. The Incredibles is one of my favourite Pixar films, only sitting behind Monsters Inc. I have been so excited for this film ever since it was announced, and there is no better time for an animated superhero sequel to be released. We are living in a goldmine of superhero films, and making it animated only gives us more opportunity for powers, abilities and battle scenes.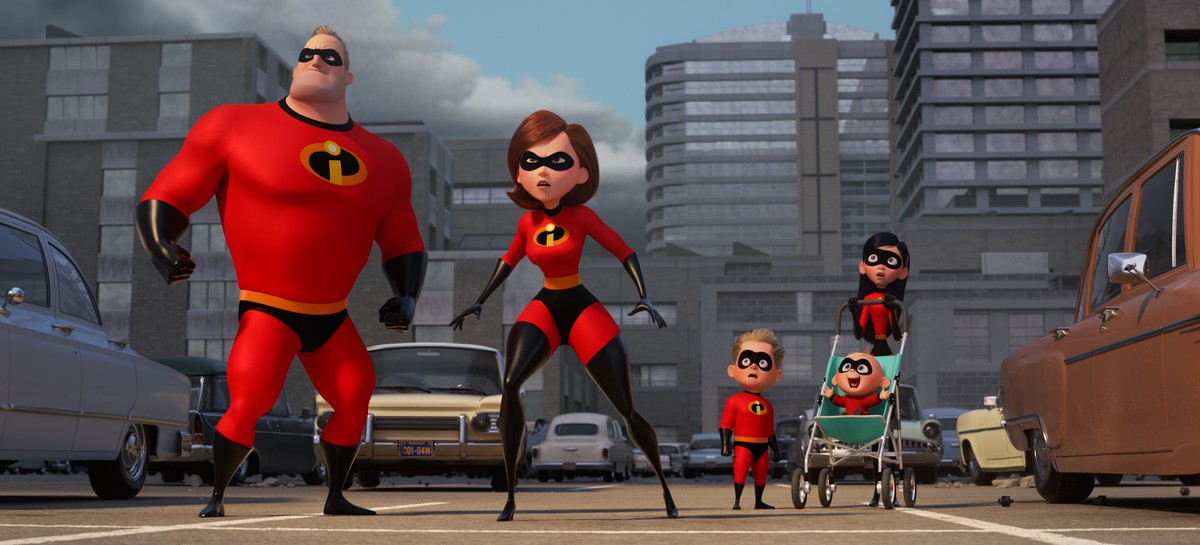 Source: Pixar Animations
Safe to say, there was a big amount of pressure on this film to please. I had heard amazing things coming from America and other countries that received the film first, and this seemed to be doing really well in the box office. I am glad to report that the reviews are right on this one, and Incredibles 2 may just be the rare case that the sequel is better than the original. This may also be a shock to you, but I am calling this the best superhero film of 2018 so far (yes, even better than Avengers: Infinity War).
Everything about this film just works perfectly. The characters are just as funny and well-written as they were back in the original, with great powers that reflect their personality and personas. They all have side-stories that connect to these powers, and yet it feels fitting and not cheesy or forced. There is a big moment for Jack-Jack, and I think he may be the minions or Olaf that we all desperately want – a side character that brings the fun and humour from a franchise, but this time not annoying!
The animation also helps go with the story, and simply it is a shock that animated superhero films outside of the small comic-animated films aren't made. There is so much more that can be done with animation, and a perfect example of that is the battle between Jack-Jack and the raccoon. It probably wouldn't be possible to do this in live-action, and even if they did it probably wouldn't work as well as it does here.
Source: Pixar Animations
The main storyline also hooks you in immediately. It is weird to think of a world despite superheroes. Yes, we live in a world without them, but in a society that majorly watches more superhero films than anything else, we are almost accustomed to the idea of them surrounding us. With that hook tied with a family dynamic that twists gender roles of the woman having the job and the man raising the children is also a great choice for 2018.
The animation style matches the original one, yet also feels modern. This goes to show ahead of its time Pixar was, and they still progress further. The animation is stunning, from the character design to the setting. The powers support this animation style and helps give it more of a comic-book feel, separating it from the more recent Pixar films.
Source: Pixar Animations
This sequel may have been 14 years in the waiting, however the wait was totally worth it. With the gorgeous animation, brilliant battle scenes and a great family relationship, this is a movie that everyone will love. I recommend this to everyone, regardless if you saw the first film or not. This works as a sequel and a standalone, and I certainly hope that an Incredibles 3 will be on its way shortly.
10/10
Have you seen
Incredibles 2
? Do you think so fondly of it like I did, or are you sick of Pixar releasing sequels now? Let me know in the comments below and I will check them out.
Until next time, that was some film for thought.