Marvel Phase 4 Announcements Ranked
As we all know, Marvel had their major SDCC Hall H panel last night, and Kevin Feige bombarded us with information on the properties planned for Phase 4. With ten properties officially announced for 2020 and 2021, it is time to rank my level of excitement for these films and TV series. Let's get started.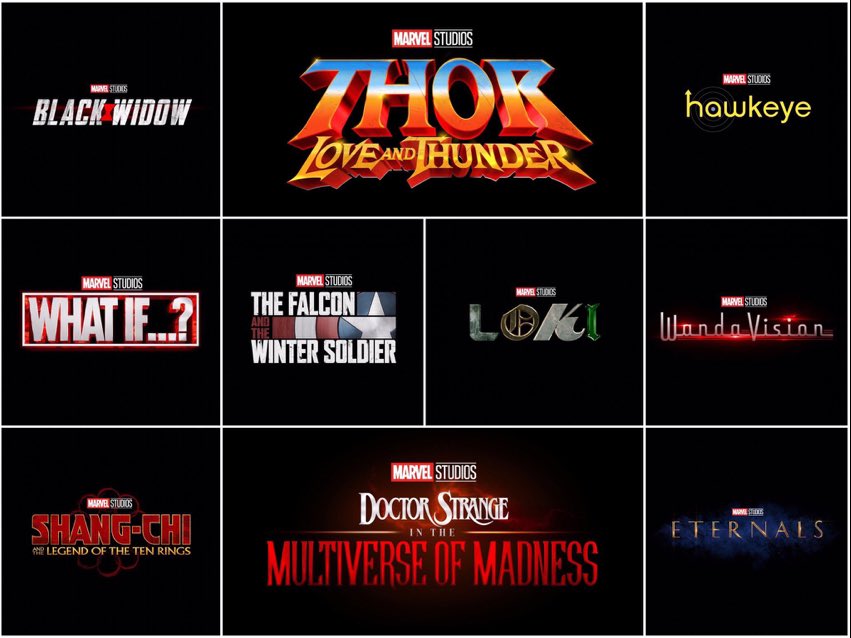 Marvel's Phase 4 – source: Marvel Studios
1. Falcon and Winter Soldier – I know I'll be in the minority here, but this is my most excited project. The Winter Soldier is one of my favourite characters in the MCU, and him and Falcon have great chemistry together. I am also excited that Daniel Brühl is back to reprise his role as Zemo, one of the most underrated villains in the MCU.
2. Doctor Strange and the Multiverse of Madness – A horror film by a horror director and focusing on both Doctor Strange AND Scarlet Witch? Sold. I have been intrigued about Scarlet Witch and Doctor Strange for so long, and even if I am hesitant about committing to a Multiverse, this film just sounds too good not to enjoy.
3. What If…? – This seems like such a fun and original idea from Marvel Studios, and the fact that it is an animated show elevates the content that they can produce. I am assuming that every show is on a different "what if", and there is such a huge cast list for this show, with potential of characters such as Thanos, Thor or more coming here. It's great that a lot of the actors are coming back to voice themselves for this series, and will only get more people excited about the property.
4. WandaVision – This show, judging by the logo, looks to be set in the past. As a huge Scarlet Witch fan, this is one show I have been excited about. There is still little known about what the show is going to be about, but I don't need much on this one to be immediately excited,
5. Black Widow – What sells me on this property in particular is the stellar cast that has now been confirmed. Scarlett Johansson. Rachel Weisz. Florence Pugh. David Harbour. What a cast there. This is also the next film to be released by Marvel Studios, so expect excitement levels to be raised by the holiday season on this film.
6. Loki – Excusing the awful logo for this TV series, it is always great to have an excuse to bring Tom Hiddleston out on stage at a Comic Con. This show, as we expected, is taking place after 2012 Loki teleports out with the tesseract cube. What madness will occur? That is the magic and hook of this show.
7. Thor: Love and Thunder – I am going to be in the minority when it comes to the fourth instalment of Thor, but I just am not enjoying the sound of this project that much. Firstly, I hate the title of "Love and Thunder", it sounds like a cheesy 80s glam rock cover mixed with hippie aspects. Secondly, I do not understand the sudden love for Jane Foster. I found Natalie Portman to be a bad sport with Marvel previously, and it seems just like a career boost now that Marvel is officially the coolest thing in the film industry. Perhaps Taika Waititi can make this work like he did with Thor: Ragnarok, but I'm not getting my hopes up. It's still above certain projects though because it's a Thor movie once again by Waititi and I can't wait to see Valkyrie once more.
8. Eternals – This is going to be a Guardians of the Galaxy situation, where Marvel get a group of a-list stars to be in a film about a group of heroes that hardly anyone in the general audience have heard of. If it worked once, let's do it again with an even bigger cast list. This is also a film that, despite the cast, I will probably not get excited about until the marketing campaign begins by the start of 2020.
9. Shang-Chi – Aside from Awkwafina, I am quite unfamiliar about the cast for Shang-Chi. However, I am so glad that Marvel is giving representation to the Asian community, and this is a great way to go about it. This is once again going to be a project that I will get excited about once I start to see marketing for the film.
10. Hawkeye – Coming in last, but still not a bad project, is Hawkeye. My level of excitement will set once we know who is being chosen to play Kate Bishop, and how her and Hawkeye will interact. I have to say though, I adore the logo and the fact that it seems to be based on the gorgeous comic book series.
What do you make of my ranking? What are you most excited about, and is there any projects you are not looking forward to in Phase 4? Let me know in the comments below and let's have a discussion.