Film Review: Zombieland: Double Tap (2019)
Zombieland: Double Tap (2019) is the long-anticipated sequel to 2009's Zombieland, with this sequel being set ten years after the first film. Director Ruben Fleischer returns for this instalment, with all four main actors Jesse Eisenberg, Emma Stone, Woody Harrelson and Abigail Breslin returning to their roles. When Little Rock (Breslin) decides to leave the group for a new boyfriend, the rest of the team must go and look for her whilst being wary of the new type of zombie that exists in the world.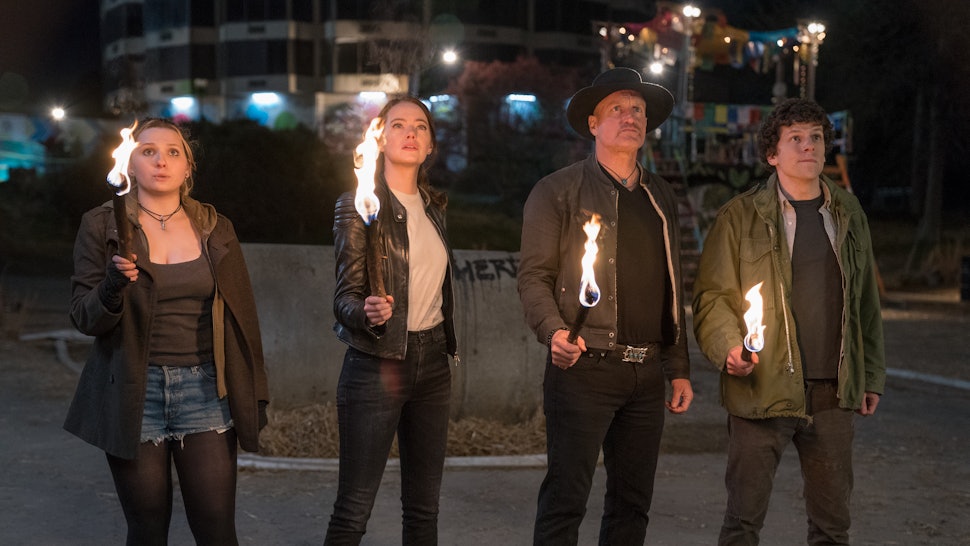 Zombieland: Double Tap (2019) – source: Sony Pictures
This should not be a shock considering the main four cast members are all now Oscar winners and nominees, but the performances here are solid throughout. It could have been easy for them to come in and give a lazy performance for a paycheck and nostalgia driving the film, but I felt like everyone here put in the time and effort which I appreciate. The easy stand out for me though is Woody Harrelson, who has not only the best moments of the film but also the best performance of his material. Most of the comedy was provided by Harrelson and he hit every joke he had.
This film only works if the comedy works in it, and I am glad to say that this film made me laugh quite often. It was shaky at the start in trying to balance the tone of the film, but once the film knew what it was going for it hit it well. There are some great one-liners and I also found myself loving the Zombie Rules sequences. There are some fun voice-over and cutaway sequences that helped create the humour and these were some of the best moments in the entire film.
I also surprisingly found the action sequences to be well done overall. With a film about zombies, I was worried that the action would either feel extremely repetitive or very gun-heavy, which I admit it can be at times. However, a lot of the action sequences still have an element of fun and danger to them which is great for a film like this. There is a one-shot action sequence in the middle section of the film which is so well shot and choreographed that I was in awe of the technicality of it.
Zombieland: Double Tap (2019) – source: Sony Pictures
Unfortunately, the tone and editing style of the film may have been there but the story felt completely weak to me. There did not seem to be a full narrative purpose for this film existing and I didn't particularly care for the actual plot of the film. I never found myself fully invested in any of the characters or their relationships, and I also wasn't too invested in the road trip that this film shows. This is a film that feels generic in story, but under-developed and lacking of much emotion despite the subject matter of family and friendship.
Whilst Zoey Deutch gives as much as she can in this film, I found myself hating the character of Madison here. Sure, she is meant to be annoying and unlikeable but it actually made me more furious with the film than anything else. She is so over-the-top and clichéd that it took me completely out of the film at some moments. Little Rock's boyfriend, Berkeley, is also very stereotypical and comes off as unlikeable as well. They had no development, no unique personality to separate them from their stereotypes and I could have done with less forced humour from each character.
Many people have already commented on this, but this is a sequel that is easily over five years out of date. This film makes jokes about how certain characters and sayings are out of date, but I do not know if this film understands that a lot of it feels outdated now. I would not say that this film adds anything to the original film, rather just sometimes shoving nostalgia down our throats and not in a good way. This film is at its best when it is making new jokes and almost separating itself from the original.
Zombieland: Double Tap (2019) – source: Sony Pictures
If you are a fan of the original Zombieland film, you will most likely end up enjoying this one. It may feel repetitive and outdated at times, but that perhaps is the true charm of this film. I did have some major problems with the characters and story development in this instalment, but as a comedy it made me laugh quite frequently throughout. When a comedy does that, I have to give it a positive score overall and recommend it. No need to rush out to the cinema to see it, but if you get a chance either then or on streaming it is worth a shot.
3/5

Have you had a chance to see Zombieland: Double Tap yet? Did you find it long overdue and outdated, or did you get some good laughs from it? Let me know in the comments section and let's have a discussion.